Explore An Island Paradise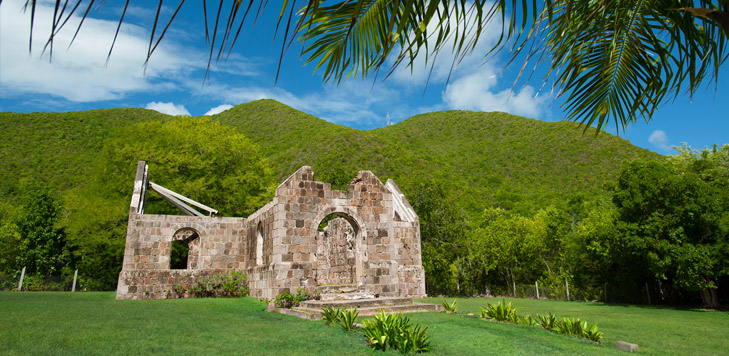 From history and culture to recreational activities, there is much to explore on the island of Nevis. Some of our favorite sights, experiences and resources include:
Cottle Church – Located just steps from the hotel, Cottle Church was built in 1824 by Thomas John Cottle, the plantation owner who served as president of Nevis for many years. Cottle built this Anglican church so that he and his slaves could worship together. Today, its ruins are a regular backdrop for weddings.
Nevis Peak – Climb the 3,232 foot Nevis peak with Lynnell Liburd, an experienced guide www.nevisnaturetours.com.
Mountain biking – If your passion is mountain biking, visit Winston Crooke, who has been on the island as long as we have. He has a wealth of information about mountain biking and windsurfing www.neviscycleclub.com.
Scuba diving – Head to nearby Oualie Bay with Ellis Chaderton of Scuba Safaris www.divestkittsnevis.com.
Sailing and snorkeling – We recommend sailing and snorkeling the waters between St. Kitts and Nevis on the Caona. This is fun for the whole family. www.leewardislandcharters.
Golf – The 18-hole Robert Trent Jones II golf course located at the Four Seasons Resort is just four miles from the hotel. Tennis is also available here.
Island exploring – Car rentals can be arranged or a local taxi driver can give you an island tour. If you're feeling adventurous, you can rent a Polaris off-road vehicle from Funky Monkey Tours. It is a great way to explore the island. www.funkymonkeytours.com.